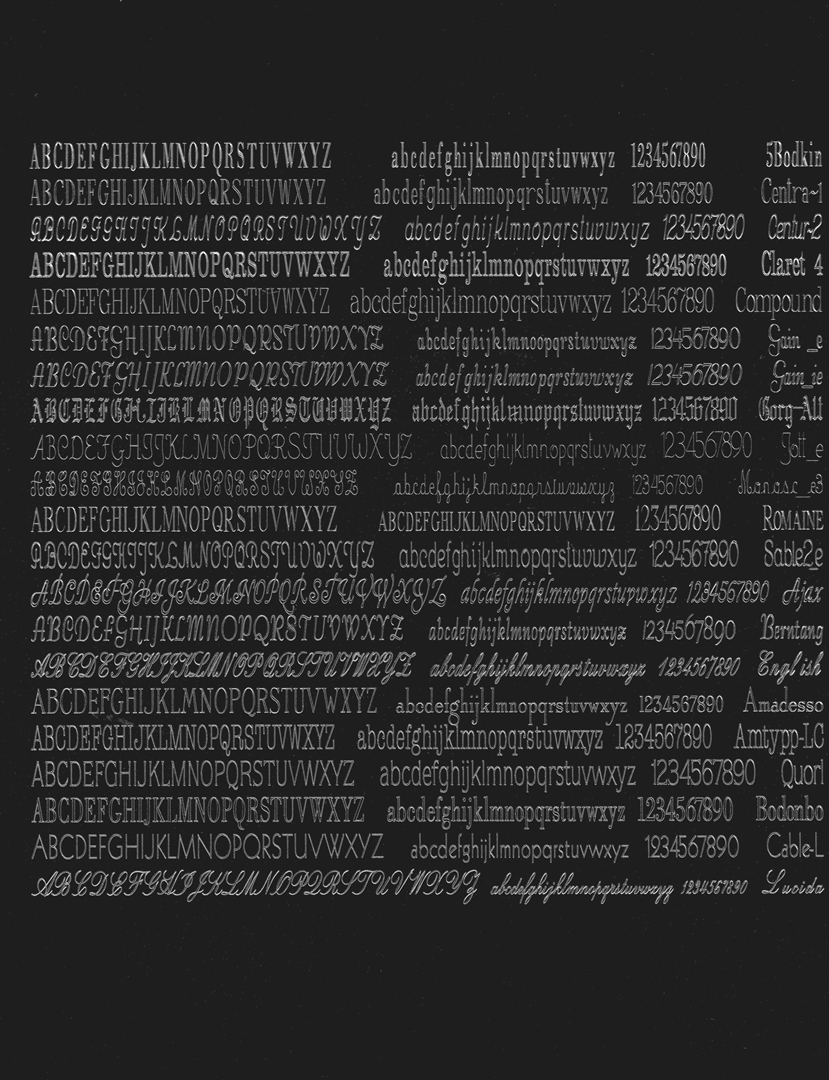 Engraving Services available from Amidon Upper valley schools and colleges count on Amidon to provide them with plaques, awards and custom engraving for all their award needs. For years Amidon Jewelers has been engraving picture frames, award plaques, rings, and bracelet charms for our guests' to commemorate special occasions.
Quality Engraving Services
We machine engrave on a wide variety of metal items including Brass, Steel, Sterling, Gold, Platinum, Titanium and more. Generally machine engraving is performed in-house and we offer a fast turn-around of just a few days.
Today it is difficult to plan a surprise with a personal gift, and it's not easy to make the gift truly unique. Engraving may be the indispensable tool that you have been looking for to personalize your gift.
Engraving is affordable, and starts at $15. The most prized engraved gifts are engraved rings, with a personal message inside.
Whether you are seeking an elegant and romantic gift for a birthday present or an engagement ring, make it unique with a personal engraved touch. Engraving lets you share a special message, personalized for your loved one.
Often couples will engrave a whimsical message like 'two peas in a pod.' or their initials and wedding dates inside their wedding rings.
There are many unique and personal items such as charms and lockets to engrave for a special gift.
We also supply and engrave many medical ID bracelets for our guests.
Amidon offers hand engraving and mechanical engraving on almost any container, even if it is on a watch or a bowl. Mechanical engraving is also used for frames and plaques.
Fonts available for machine engraving can be seen above in the image.
Hand engraving your jewelry or gift-ware can transform it into an heirloom to be cherished for generations.
Hand engraving is performed by a craftsman using hand tools. Hand engraving takes more time because of the skill and dedication required, the price for the piece varies, depending on the number of letters, size and complexity of the engraving.
Hand engraving is an art held at high standard, your message is carved deep into the surface, and the breathtaking creation is guaranteed to last a lifetime. Machine engraving is a great value, for a small fee you can transform most items with a personal message.
Engraving Price Guide:
Machine Engraving: Our Merchandise FLAT $.50 Per Letter
(In-House) $20.00 minimum charge – includes up to 20 characters
Our Merchandise CONTOUR $2.00 Per Letter
$30.00 minimum charge – includes up to 10 characters
NOT our merchandise FLAT $2.00 Per Letter
$30.00 minimum charge – includes up to 10 characters
NOT our merchandise CONTOUR $3.00 Per Letter
$50.00 minimum charge – includes up to 10 characters
Dartmouth Seal or other stock seal – Add $25 per seal
Brass or Steel Plate: 2x4 or smaller $10.00 each
2x4 to 6 x 8 $20.00 each
Larger than 6x8 By Quote
SPECIALTY ENGRAVING:
Hand Engraving on inside of Ring or Bracelet: $235 – includes up to 8 characters
Hand Engraving on Contour (including large bowls and trophies) $12.00 Per Letter
$150.00 minimum charges – includes up to 12 characters
Letters over 1 inch by Quote only - $200 minimum deposit
Hand Engraved Monograms:
Small (nickel size) $100 up to Quarter size $175
Larger by quote with $100 deposit
Signet Ring Relief Carving: minimum charge of $300
(Please allow at least 2 weeks for all Specialty and Hand Engraving)