My fiancé likes to joke with me about shopping for Valentine's Day. He says that it's impossible for him to surprise me with anything because I already know that it's going to be candy, flowers and some kind of diamond jewelry. Compared to me – and women everywhere, for that matter – I think he and most men have it easy. It's easy to find romantic gifts for women, but I don't think there's anything too romantic about power tools, and if I try to give him flowers, I know he'll forget to take care of him. That's why I'm going to surprise him with some
diamond jewelry of his own.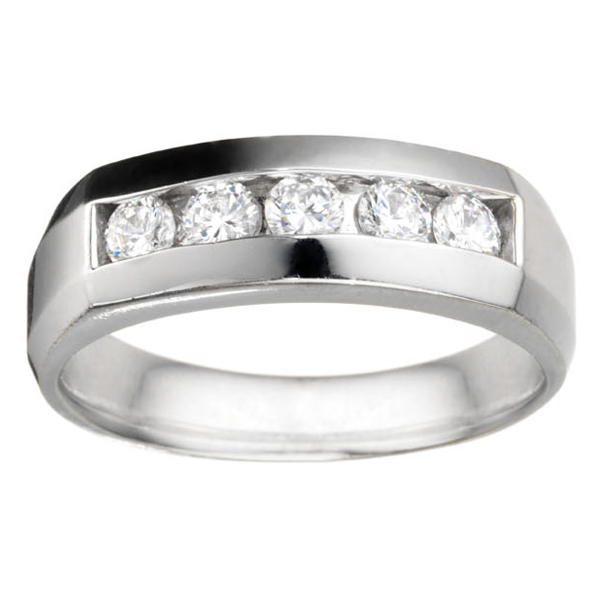 1/2CTTW Men's Diamond Wedding Band I'm lucky that he is conscious enough about what he wears and how he dresses that he is always looking for new ways to accessorize. Men's jewelry has become more popular over the last several years, and I was actually surprised to see how many different styles of jewelry there was to choose from. Most people think men's jewelry begins with fashion watches and ends with wedding bands, but there are complete lines of diamond rings, bracelets and necklaces to choose from, as well as more traditional items like cuff links and tie tacks. I knew that as adventurous as he might be when it comes to fashion, he wouldn't want anything too flashy. The last thing I wanted to do was make him think I was dressing him to look like Mr. T. I wanted to make sure that it would be something he would like to wear and that would also be a reminder of me. When I went to my local jewelry store and was talking to the woman working there, she directed me to their collection of men's jewelry made from aircraft steel. Far from being generic jewelry that could be worn by either gender, these pieces have a very masculine look and feel to them. Plus, I knew the uniqueness of it would really appeal to him. I can't wait to see the look in his eyes when he opens the gift and sees the necklace I bought him, and I really can't wait to tell him how easy it was to shop for him.